Dallas arrives at Bingo.com
A new slot machine game has recently been released to celebrate the return to the screen of a cult 1980's series.
Warner Brothers Television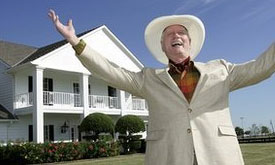 The new game was developed because Warner Bros. Television decided to launch a new pilot in America to re-launch the popular series that ran between 1978 and 1991 recounting the life of the Ewing's, a wealthy Texan family working in the oil industry.
A new slot machine
The new slot machine on the online casino has an entertaining opening sequence that includes the original theme track from the series including the familiar faces of 'JR' Ewing, Sue Ellen, Miss Ellie, Jock and Lucy that are used as the symbols.
South Fork Ranch
Dallas comes complete with a bonus free game Oil Field and free tours of "Downtown Dallas", but the action really takes off with the main title game "South Fork Ranch".
Authentic Play
Following a statement released by Bingo.com, this game is based on the cult TV series from the 1980's and recreates many of the characteristics of the oil wells and JR's ranch-style life-style.
Many ways to win
JR Ewing famously once said, "the only important thing is to win" and the new Dallas game incorporates these values by offering many opportunities to win in the shape of free spins and an exciting bonus game to boot.