Roulette rules
Roulette is a great game with which you can make a lot of money. It is not a difficult game. All you have to do is read up on the rules. The most important rules are briefly explained here. Read our explanation of roulette and increase your knowledge of this casino classic!
Play roulette online at Royal Panda
After you have read the explanation of roulette you will be ready to play roulette online. Play with practice money or real cash at Royal Panda. At this online casino you can also play live roulette. Receive a 100% welcome bonus up to ₹7500 now!
The aim of roulette
The goal of the game is to predict which number on the wheel the little ball will land on. There are different betting options and various strategies that can help you make a big profit.
Betting options
Before the game begins, you have to place a bet on the roulette table. There are various betting options. You will first have to choose whether you want to make inside bets (bets within the playing field) or outside bets (bets outside the playing field).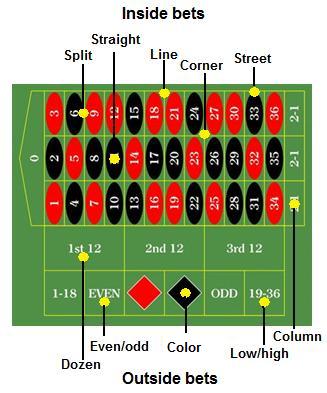 Inside bets: when you want to place your bet on the inside of the playing field, you will have several options:
Inside bets
Payout
Straight
One number
35 to 1
Split
Two numbers at the same time
17 to 1
Street
Three numbers straight
11 to 1
Corner
Four numbers at the same time
8 to 1
Line
Two adjacent straights
5 to 1
Outside bets: you can also place a bet outside the playing field. You will then have the following options:
Outside bets
Payout
Column
One of the three rows of twelve numbers
3 to 1
Dozen
One of the three sections of twelve numbers
3 to 1
High / low
High numbers (19-36)
Low numbers (1-18)
1 to 1
Colour
Black or red numbers
1 to 1
Odd or even
Even or odd numbers
1 to 1
Win more money by playing progressive roulette
In addition to regular bets, some online casinos offer progressive bets. A progressive game of roulette is linked to a central jackpot, the so-called progressive jackpot. The value of this jackpot will then increase rapidly. For every bet that is placed, extra money is added to the central jackpot. When the progressive jackpot is won, this usually means a large payoff.
The difference between European and American roulette rules
There are two different types of roulette: European roulette and American roulette. Both types can be played online. There is only one small difference in the rules. American roulette is played with both a zero (0) and a double zero (00). This means there are more betting options but less chance of winning. That is why it is always better to play European roulette.
Have you mastered the explanation of roulette? Try the game for free or for real money!