Video poker strategies
Video poker is based on chance and primarily demands knowledge and skill of the player. The key when playing online video poker is to get the strongest possible hand. In order to do this, you'll need to know which combination of cards will yield a winning hand. To help you on your way, OnlineCasino.in has collated a number of useful tips for you.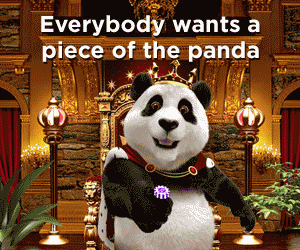 Employ a video poker strategy right now at Royal Panda
Video poker strategy overview
| Video poker strategy | What does this strategy involve? |
| --- | --- |
| Find the game with the best payout | Play the video poker variant that pays out the most on higher hands.  |
| Hold or replace? | Know when you should hold onto a card, or replace it. |
| Take your time | Because you're playing against the machine/bank, you won't be leaving anyone waiting around. Use this to make the right choices. |
| Bet the maximum | In order to win the biggest amount possible, you'll need to bet the maximum too. |
Find the game with the best payout
Before you start playing online video poker, it's logical to first search for a variant that offers the best payouts. Look especially at the payouts for higher hands, such as a flush, full house and a royal straight flush. The 9/6 variants of online video poker offer the best chances of winning. That is to say, the bank will payout nine times your wager on a full house, or six times your wager for a flush. One example of a 9/6 variant is Jacks or Better. An overview of the payouts for the different video poker variants can be found here.
Hold or replace?
When playing video poker, it is important to be able to identify a winning hand, so that you can anticipate which cards to hold and which to replace. In the table below, you can view the most frequent poker hands to see how many cards you'll need to hold or replace. This strategy is tailored to the most popular video poker variant, Jacks or Better, but you can adapt it for all variants. Be very careful when you're playing another variant which features jokers or additional winning hands. In such cases, you'll need to adjust your strategy.
| Hand value | Number of cards to hold | Number of cards to replace |
| --- | --- | --- |
| Royal straight flush | 5 | 0 |
| Straight flush | 5 | 0 |
| Four of a kind | 4 | 1 |
| Full house | 5 | 0 |
| Flush | 5 | 0 |
| Straight | 5 | 0 |
| Three of a kind | 3 | 2 |
| Two pair | 4 | 1 |
| One pair | 2 | 3 |
Take your time
With online video poker, you have the advantage that you're only playing against the bank, and not against other players or a dealer. You therefore have all the time in the world to consider your next move. First, carefully look at which cards that have been dealt, then study the table with the hand values and the corresponding payouts and make a suitable choice.
Bet the maximum
If you wish to maximize your winnings, you'll need to bet as much as possible. The lower your wager, the lower your payout will be if you're dealt a winning hand. The highest hand in video poker is the royal straight flush. Should you bet the maximum and are dealt a royal straight flush, you'll win up to 4,000 coins. With a lower bet, your winnings from a royal straight flush will be considerably lower. Play as much as possible with the maximum amount of coins.
Learn the rules, or play for free?
Before you start playing online video poker, it's advisable to first go over the game rules. If you'd like to test your video poker skills, you have the option to try video poker for free, before you play it for money.
Rate this