Slots game rules
Slots have been popular in casinos for many years. Playing a slot machine is not difficult, but some preparation is helpful. There are a number of general rules that apply to all slot machines. Furthermore, you can also employ a strategy to increase your chances of winning.
Online slots at Royal Panda
At Royal Panda you can choose from a wide range of slots. Video slots, classic slots, progressive jackpots, can all be found here. You can start betting from $0.10. Royal Panda also treats you with a welcome bonus of 100% up to ₹7500!
Aim of the game
The main aim when playing a slot it to create winning combinations along one of the paylines. You place your bet and spin the reels. If the winning combination appears, you win. Your winnings depend on the winning combination that you've managed to create. 
Paylines
To increase your chances of winning, you can bet your money on multiple paylines. You'll only receive points when a combination of symbols falls on a payline. The more paylines you bet on, the greater the chance is that a combination will land on one. The number of paylines differs from slot to slot. This can range from one to dozens of paylines.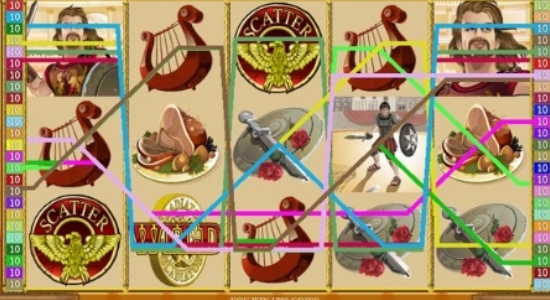 Bonus symbols
Bonus symbols make playing slots even more enjoyable. These, as the name suggests, offer extra bonuses. Different slot machines may have different bonus symbols. There are two standard symbols: the wild, and the scatter symbol.
What is a wild symbol? This symbol can replace another symbol. This means that the chances of a forming a winning combination are higher. The way this symbol looks differs from slot to slot. A wild symbol cannot, however, replace another bonus symbol.
What is a scatter symbol? This symbol can initiate free spin modes.  Depending on the slot machine and the number of scatter symbols, you can sometimes receive up to 50 free spins. This means you'll be gambling for free! Scatter symbols can also yield big wins by multiplying your bet with other factors.
Bonus games
Video slots often contain a bonus game. These enable you to win more points by playing a game in an interactive manner. To get to the bonus game, you need to collect bonus symbols. These can be the scatter symbols, or another bonus symbol. The number of bonus symbols requires differs from slot to slot. Sometimes it's possible during a bonus game to win a progressive jackpot.
Classic slots versus video slots
Online slots have more to offer than slots in offline casinos. This is how classic slots and video slots differ from each other. There are a couple of important differences between these two types of slot machine:
With a classic slot, the symbols appear as regular images. By contrast, in a video slot the symbols can also consist of animations. The means that watching the reels spin can be nice.
Classic slots often have a classic look, whereas video slots have a modern look with many audio effects and special themes.
A video slot often has a bonus mode as a little extra. Here you can win more points in an interactive manner.
And finally, a video slot often has more paylines than a classic slot.