Asian gambling growth rate contrasts sharply with Vegas revenues
Las Vegas is famous for its huge number of casinos, which are also impressive in terms of size and architecture. Sin City has been struggling with slow growth and high unemployment, but the exciting atmosphere is still alive and kicking. One might ask: how long can Vegas live on its fame as the Asian gambling market continues to grow explosively.
Macau beats Sin City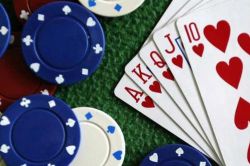 The latest figures show that Macau's annual revenues are six time higher than those in Sin City. What makes it even more impressive is the fact that there are less gambling venues in Macau than in Vegas. To be more precisely, there are 40 casinos in Macau, compared to more than 80 in the American gambling hub. Casinos in Macau make more money thanks to a vast number of so-called 'high rollers'.
Generous casino players
Market watchers believe there are two main reasons for the rapidly growing gambling market across Asia. First of all, Asia's middle class growth results in an increasing number of 'big spenders' at casinos. Gamblers visiting Sin City bet an average of $156, while punters playing at Macau gambling parlors spend a whopping $1,354. Secondly, casinos are an extremely popular destination among Asians due to their inborn fascination with gambling.
Focused on gambling
Additionally, it appears that Macau visitors mainly focus on gambling, while those who pay a visit to Vegas primarily enjoy the magic atmosphere. There are market watchers who forecast that Macau's gambling market will become the world's first $100 billion industry within a five year time frame. However, that bold prediction strongly depends on the growth of high-rollers.