Barcelona stars spotted at casino
Last night, Casino Barcelona welcomed three special guests: Lionel Messi, Gerard Piqué, and Cesc Fàbregas. The trio decided to enjoy a late-night gambling session, which has caused some commotion as the casino visit took place eleven hours before Barcelona's flight to Manchester. Luis Enrique was not amused, but disciplinary actions are not likely.
Fun at Barcelona casino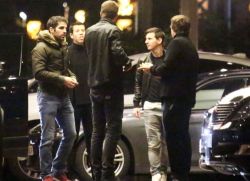 The Spanish club takes on Manchester City this Tuesday, which is an important Champions League match for both sides. Barcelona defender Gerard Piqué however, didn't feel they had done anything wrong. "We really enjoyed our casino visit that has nothing to do with our profession", Piqué commented.
Let's talk about football
Barcelona coach Luis Enrique couldn't hide his dissatisfaction at the press conference. Initially, he tried to smooth over the incident. Enrique suggested that the English reporter was from a notorious Spanish radio station. "I prefer to focus on tonight's game, rather than talking about private issues", he told in a reaction on Piqué's comment.
Innocent pastime
Maybe Messi, Piqué, and Fàbregas were playing a game of blackjack, or perhaps they enjoyed some slot machines. We will probably never know, but at the same time it's irrelevant as footballers should not be judged on such trivial activities like gambling. Additionally, a casino visit is not likely to have a negative impact on their performance on the pitch. Everybody likes gambling, including famous footballers.