Goa chief minister calls for stringent measures against casino ship
Manohar Parrikar, chief minister of Goa, urges rigorous measures against the operators of a gambling boat. Parrikar holds the management of the Casino Carnival responsible for the deadly incident, which took place on Saturday, July 13. Shiv Dhanush Reddy, a 20-year-old student, fell off the casino vessel. His body was found two days after the fatal fall.
Student drowned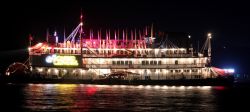 "I have told authorities that the operators of the gambling boat are responsible for the deadly incident," Parrikar commented. Detectives have started a probe into the background of the fatal fall. Reddy reportedly slipped and fell off the second deck of the casino ship. The 20-year-old student didn't survive the fall and drowned.
Illegal access
The chief minister revealed that the management of the casino has been accused under section 336 in the Indian Penal Code. Indian citizens younger than 21 years of age are not allowed to embark on gambling boats, according to the Goa Public Gambling Act. "The operators of the casino should have denied him access to vessel," Parrikar stated.
Complaints filed
The Government of Goa is due to appoint a gambling administrator in order to control gambling activities. Authorities have filed a complaint against the management of the gambling boat. M.S. Fernandes is the captain of the boat, while Spancar Cuuilidoll operates the casino. Additionally, the security manager and other staff members also face charges.