Lottery scammers target Barakhamba Road area
Lottery scammers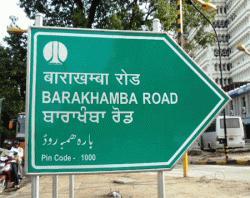 A senior citizen, who used to work as a public servant at the State Trading Corporation of India Ltd., has become the latest victim. G Nageswara Rao was heading towards Barakhamba Road metro station when he saw somebody offering lottery vouchers in paper bags. "A man left the scene after he won an undisclosed amount of money. Then another individual invited me to help him with the coupons in the paper bag. They managed to confuse me after which I took the vouchers out of the bag. The first voucher rewarded him 10 Indian Rupees, while the other one was worth 50 Indian Rupees. When I got home I discovered they had stolen my golden ring," G Nageswara Rao said.
Strange gambling tradition
There was also a report of 300 persons arrested on gambling charges in the city of Ahmedabad (Gujarat). Local police raided around 25 locations and confiscated various items with a total value of 20 million Rupees. South Gujarat is known for its gambling tradition called 'Shravaniyo jugar' during the Shravan month. Many pious residents gamble in groups while they avoid non-vegetarian food and give up alcohol. There are also worshipers who abstain from shaving their beards and don't cut their hair during the month of Shravan.