Shanghai games room at VirginGames.com
VirginGames.com announced the opening of its new Shanghai room, which will be available to players a number of 90-ball bingos for seven hours a day.
New bingo games
The online casino revealed that the new room will also be offering 75 and 80-ball games in the near future that will be accessible from noon till 2pm and 7pm till midnight.
Golden Hour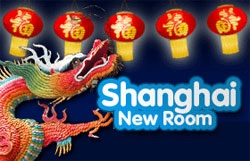 From midday noon the new Shanghai room offers "Golden Hour", a "golden" hour during which time players can win £20 for the price of a two pence admission ticket. There are also scratch card games cleverly named "Shanghai Noon" every hour (on the half hour) which give players having earned nothing a second chance to win up to £10.
The new Shanghai room
VirginGames.com announced that the new Shanghai room will include "One-To-Go" special every hour, giving players who missed out on the prize by one number 50 pence to spend in the next day or the following week.
£100 Chinese Take-Away
"And as if all this were not enough, every day between eight and nine o'clock in the evening the new Shanghai room will host its own £100 Chinese Take-Away giving any player who has a full on the same number as the Chinese dish chose a £100 cash prize. Our new Shanghai room officially opens on March 1st" read out the statement from VirginGames.com.
Join us
"We're as excited as you are. Make sure you join us for a ton of fun every day 12-2pm and 7pm till 12am."