$1.5 million jackpot thanks to winning scratch card
Impulse buying can turn out quite rewarding, especially when it involves lottery tickets. Ask Martin McKenna, who wasn't planning to buy any scratch cards when he stopped for some groceries. However, the Northern Irishman purchased two so-called 'millionaire 777 red' scratchers, and one of them was a winner.
Life-changing event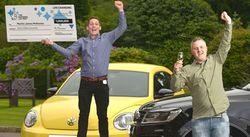 "I was excited when I discovered that the first one had hit a $30 win. You can imagine how I felt when I saw that the other scratch card had hit a $1.5 million windfall. It was absolutely amazing, something I had never felt before", McKenna said. Initially, the 35-year-old couldn't believe it, and he thought it was a mistake. "It took a minute for me to comprehend that I just won the jackpot."
Joke or truth?
Then it was time to inform his partner about the staggering scratch card win. "My girlfriend was preparing dinner when I came home. I asked her to sit down for a moment as I had something big to tell her. She was a bit worried because she noticed the strange expression on my face. At first, she thought I was joking, and she refused to believe it", the Northern Irishman added.
Online scratchers
While the enormity of the windfall is still sinking in, McKenna and his girlfriend have already a few ideas of how the winning scratch card will change their life. Scratchers are hugely popular among gambling enthusiasts, with the same applying for the online equivalent. Royal Panda for example offers popular titles like, Ace, Triple Wins, Lucky Double, and 7 Gold Scratch.