Hotel-based gambling operation smashed in Hyderabad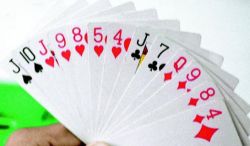 Gambling is hugely popular in India, despite the fact that it's heavily restricted. Indians always find ways to gamble with countless arrests as a result. Many underground gambling dens were raided in the past, and now Hyderabad authorities have smashed one in Somajiguda. Those illegal gambling activities took place at several hotels.
15 nabbed for gambling
Hyderabad authorities booked 14 illegal gamblers, in addition to C. Kishore Kumar. Police claim that the 30-year-old was the leader of the underground gambling operation. According to local media, the clandestine gambling den operated from hotels in the city. All suspects face gambling-related charges, according to a police spokesperson.
Hotel gambling
Kishore and his buddy Siddharth Agarwal love to play card games, and they planned a gambling operation in order to make some money. The duo targeted hotel rooms for their black-market gambling business. Kishore and Agarwal hosted card games for real money at multiple hotels across Hyderabad. Authorities recovered various mobile phones, as well as Rs 1.8 lakh in cash for forfeiture.