Indian housewife takes home jackpot of Rs 50 million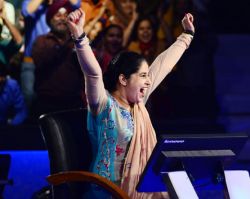 Indian film actor Amitabh Bachchan first hosted the international TV show in 2000. Kaun Banega Crorepati made its debut with a jackpot worth Rupees 10 million. At the start of the fourth season, the jackpot was upgraded to Rupees 50 million. Who Wants To Be A Millionaire is available in 81 different versions, while the original British edition premiered in September 1998.
First female winner
Bachchan spread the news about the winning housewife via Facebook: "We celebrate the first female contestant who managed to answer all 15 multiple-choice questions correctly. She has scooped the Rupees 50 million jackpot! Amazing! It has been an incredible streak of 15 correct answers."
Women empowerment
"Considering the brutal gang rape in New Delhi, this victory is definitely a major boost for all Indian women. We must respect our women and treat them equally," Bachchan said in an interview. The lucky winner declared that the jackpot should inspire all Indian women. "I wish all women in my country both physical and mental strength." Check our news section for more exciting gambling news from India.