Launch of SpadeSocial, social video sharing network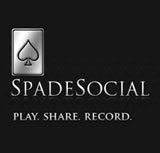 Currently in the beta test phase, SpadeSocial will in the short term allow users to upload their own videos related to casino games and sports betting and co-produce original programming covering news related to poker, blackjack, casino strategy, betting and spread betting as well as its PokerMind and Funny First Time series.
A useful and entertaining site
"SpadeSocial offers our users an easy to use platform and a place where they can search and find all types of game related video content, explains Kristoff Doneit from SpadeSocial. Our goal is to accumulate user video content which will show the fun and amusing side of the world of online casino gaming. This method will lead to unique advertising opportunities and a powerful marketing tool for our clients."
A site which will succeed
"People love video. With the growth of the online video market and the degree of brand success converted from this form of advertising, our platform provides gaming operators with a unique target niche market to target potential customers and interact with them at the same time."
Share your videos in several ways
SpadeSocial will also provide users with video streaming facilities to disseminate gaming news across in the web virally. Members can also share videos with other social media sites and voice their opinions using the Facebook comment tool.
Community training
"Social networking in the online gaming arena will no longer be a sterile exchange platform used by reactive users, said John Kamara of SpadeSocial. SpadeSocial is a proactive forum for users with content created and administered by members of the online community".