PKR is the latest OpenBet client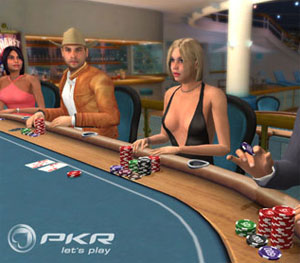 OpenBet has made a recent new announcement following a deal with PKR to provide their casino platform to the online poker room.
Flexible server
The flexibility of the games server allows PKR to take full advantage of the OpenBet Casino and fixed odds games, as well as to select the best games among the long list of other providers.
New range of games
PKR offers a new range of games of online poker and online casino, 50 of the most popular OpenBet games such as Chain Reactors, Super Trails and blackjack in their casino game room.
Play now
The casino game room opened at the end of 2010 allowing all users to create an account and play without delay and without even having to download the software. The OpenBet platform is a non-download Flash based solution which opens up a whole new world of online casino with very high quality graphics and animation.
Many new games to discover
With its new open platform PKR has been able to expand its offer and include its own games along with those of its partners. The flexibility of the PKR casino platform has made it easy to integrate the OpenBet casino and the existing accounting software used by PKR.
A great gaming platform
David Loveday, CEO for OpenBet Ltd stated, "We are very pleased that PKR has chosen to use our product OpenBet Casino. The games room provides a very attractive new platform for customers who want to play casino games beyond the current casino and poker offering."
Remarkable offer
Malcolm Graham, CEO of PKR adds, "OpenBet presents the most flexible casino platform currently available on the market and this new line of products has greatly enriched our comprehensive casino offer."