PokerHeaven player wins the IPN Bad Beat jackpot
A jackpot that has grown steadily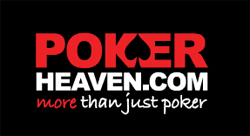 Available on many other poker sites online including VirginPoker YahooPoker and InterPoker bad Beat jackpot provided by the IPN exceeded the mark of one million euros earlier this month and continued to climb up to 1, 831, 426 $ (€ 1, 265, 583).
Beautiful award
Another competitor using the pseudonym ' 7 Adelaida7' won the game with four aces and won an additional 320, 391 $ (€ 221, 477), and seven other players who participated in the game each collected 45, 766 $ (€ 31, 639).
A beautiful hand
'I had two Kings and all the money went in at the pre-flop', said 'OmgoMgomGo', who joined PokerHeaven earlier this year. 'As soon as I got my four-of-a-kind I was hoping that my opponent had lost. I was so happy when I realized what had happened. I still cannot believe it.'
Projects are formed
'The atmosphere at the table when the jackpot was won was great and I would like to thank the players and staff at PokerHeaven for their best wishes. Regarding what I am going to do with the money, I will buy a house, a car and of course celebrate!'
Bad Beat Jackpot available via the IPN has already been in place for a sum of 360, 000 $ (€ 251, 200) and will continue to grow until another competitor earn with a square 10 or better.
'It is an exciting time for the IPN,' said William Scott, vice-President to GTECH G2, software vendor gaming interactive and Services.
A new record
' We placed the bar high with a new huge world record and with our investment of two million euros in the IPN we are committed to providing even more promotions and tournaments to our players."