Australian player finds second magic bean at Royal Panda
Henry from Australia is experiencing quite an amazing week at Royal Panda after scooping a second big win yesterday. On Wednesday, the 32-year-old gambling fan landed a $107,470 jackpot whilst spinning the reels of the Jack and the Beanstalk video slot. Yesterday, Henry's winnings mounted to a whopping $93,050, resulting in a cash balance of more than $194k.
$67,500 win during free spins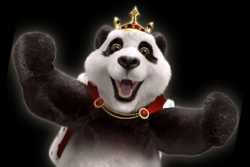 The Australian punter decided to try his luck again on the Jack and the Beanstalk video slot. With a $200 bet, Henry won 10 free spins, in addition to 17 re-spins in the bonus round. One of the free spins resulted in a $67,500 win, according to a spokesperson for Royal Panda. At the end of the dazzling Jack and the Beanstalk session he had collected a $93k bonanza.
Huge winnings with modest wagers
It seems too good to be true, but Henry has proven that you can win huge amounts with modest bets. His winning streak boosted his balance to a whopping $194k, mostly the result of the Jack and the Beanstalk video slot. At this point it's unclear if Henry will continue his hunt for some more magic beans, but his first week at Royal Panda is definitely one to remember.