Mobile casino player hits $5,672,431 jackpot
The Mega Moolah online slot has spilled out a life-changing jackpot. A gambling enthusiast, identified as Mark A, was playing the African safari-themed slot on a mobile device when he struck oil. Mark scooped a whopping a $5,672,431 jackpot, which is a testament to the Mega Moolah's nickname: 'the millionaire maker'.
One-time payment
A spokesperson for the Microgaming-powered progressive slot has confirmed the life-changing windfall. Instead of spreading out his jackpot payments, Mark has chosen to take the fast lane and receive his winnings in one lump sum.
One of Microgaming's biggest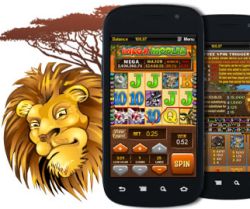 "In the past few weeks, the progressive jackpot linked to the Mega Moolah slot had been climbing significantly. It was a matter of time before it would spill out a huge amount of cash. This latest win proves how rewarding mobile gaming can be, and it's definitely one of our largest windfalls ever", a public relations coordinator at Microgaming commented.
Rewarding slot choice
The fortunate player in question created an online casino account only one week ago. Spinning the reels of the Mega Moolah was definitely a great decision. The millionaire maker is also available at Royal Panda, which offers an innovative mobile casino packed with exciting games. In fact, Royal Panda players can enjoy the Mega Moolah slot on their smartphone or tablet computer.