Mobile slot player hits $1,300,661 jackpot
A German punter has become an instant millionaire thanks to a progressive slot game. The fortunate player in question, who only wants to be referred to as Cihan D., took home $1,300,661 in cash. Cihan D. was spinning the reels of the popular Major Millions game. The German winner revealed that Major Millions is one of his favorites online slots.
Life-changing event
Cihan D. is obviously delighted with his new fortune. The German gambler plans to quit his job, but first he will enjoy a nice holiday in Las Vegas. Cihan D. couldn't believe his eyes when the reels landed on the progressive jackpot of $1,300,661. It's the biggest payout ever at the mobile casino.
Three versions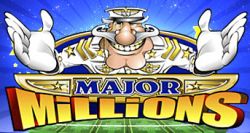 Major Millions is a popular slot among online gamblers due to the progressive jackpot, which can reach truly staggering proportions. The progressive slot is available at mobile devices and computers, while there are three versions:
A three-reel slot
A five-reel version
A MegaSpin variant
The last one enables players to play six Major Millions slot games simultaneously. Royal Panda is one of the online casinos that offers the Major Millions slot.