Online slot player cashes $4.4 million at Unibet Casino
The Mega Fortune Dreams slot has spilled out a multimillion jackpot at Unibet Casino. A 45-year-old online gambler from Belgium took home a whopping $4.4 million in cash. The fortunate player in question, identified only as M.B., decided to sign up with Unibet Casino when he spent a few days in a hospital.
Tempting promotions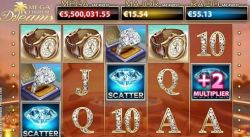 M.B. noticed the rewarding promotions that Unibet offered, and opened an account. The popular online casino awarded players 10,000 free spins every week, which was too tempting to resist. The Belgian punter was spinning the reels of the millionaire-themed video slot Mega Fortune Dreams when he hit a $4,429,248 jackpot. It shows how rewarding online casino promotions can be.
Holiday time
The winner was obviously excited about the staggering windfall. "At first, I couldn't believe my eyes. Nobody really expects to win a jackpot of this magnitude. I signed up with Unibet because of their lucrative promotions, and all of a sudden I'm a millionaire. I'm planning to treat my daughter to a car, while I will buy myself a new house. However, first I will enjoy a long holiday", the Belgian winner commented.