Slot player hits $1.7 million jackpot
A Wheel of Fortune progressive slot machine has spilled out another staggering jackpot. The lucky player in question took home $1,784,972 in cash at a Las Vegas-based gambling venue. A spokesperson for the California Hotel & Casino stated that the winner asked that his name be kept confidential.
Indescribable moment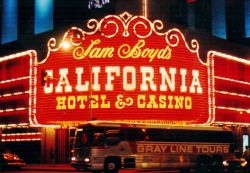 Nothing beats the sensation of winning a life-changing jackpot. The fortunate slot player can bear witness to that fact after enjoying a few days at the Las Vegas casino resort. He was spinning the reels of a Wheel of Fortune slot machine shortly before driving to the airport. The jackpot winner recalled he had no clue what had happened when the game started flashing up and bells started ringing. Three 7's lined up on the reels, which resulted in the $1.7 million prize.
Luxury gambling resort
The California Hotel & Casino features nearly 1,000 slot machines, in addition to 28 gambling tables. There's also an exciting sports betting area where player can place wagers on sporting events from all over the world. Additionally, the Las Vegas casino resort offers an extensive keno room, packed with live tournaments. The California Hotel & Casino also boasts several restaurants, while its Hawaii-styled hotel provides guests with a wealth of comfortable rooms.