End of exponential growth in Macau
Slow season
Spending of billionaire VIP punters has dropped as a result of the ongoing global financial crisis. It is expected that things will not get better before September as July and August are usually considered the slow season. Opening of new gambling parlors and public holidays in September and October are expected to boost gambling revenues.
Internal incident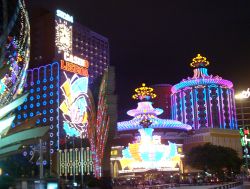 Recently there was an incident involving a businessman who was assaulted in his own gambling venue. The case exposed the dark side of Macau's extremely rewarding gambling industry, which is dominated by violent gangs. However, locals believe it was an internal incident.
Lower growth targets
Analysts remain optimistic on the world's leading gambling hub, regardless of the reduced growth rates. Last month, numerous analysts lowered this year's growth goals and forecasted weaker quarterly profits for regulated gambling companies such as Wynn Macau and MGM China.
Exponential growth rates
Despite the weakening growth, Steve Wynn is optimistic about the new Wynn Macau Ltd. in Macau. The casino mogul doesn't have any doubts about the profitability of the new gambling resort. However, the global economic conditions are not in best health. Wynn added that it's almost impossible to continue the exponential growth rates.