Galaxy Entertainment benefits from casino growth
Macau casino operator Galaxy Entertainment has recorded a 38% lift in profits during the first three months of 2014. That hefty growth is mainly the result of an increasing number of gamblers who pay a visit to Galaxy's casinos in Macau. Especially the VIP area continues to gain popularity among casino players.
Massive investments
Galaxy's gambling turnover rose 32% to HK$14.6 billion in the first three months of 2014. Galaxy executives predict that growth will reach a new record this year. The Macau casino operator purchased the Grand Waldo gambling resort for HK$3.25 billion in 2013, which will open its doors at the start of 2015. Additionally, Galaxy Entertainment invests approximately HK$50 billion in the development of Galaxy Macau.
Spending up by 10%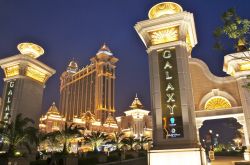 Casino players from the mainland spent 4% less in the first quarter, in comparison to the 2013 quarter. However, figures from the Macau Statistics and Census Service show that overall spending rose 10% in the first quarter of this year, compared to the same period last year.
Diversification
Pansy Ho Chiu-king, managing director at MGM Grand Paradise, noted that Macau should focus on more areas besides casinos. Ho underlined the importance of non-gambling areas, including conferences, shopping and arts. She also signaled that MGM China could participate in the development of the isle of Hengqing.