Indian online casino market holds huge potential
The rising middle class in India offers enormous possibilities in terms of disposable income. It seems only a matter of time before online casino operators and the government benefit from the rapidly improving wealth.
Inborn fascination with gambling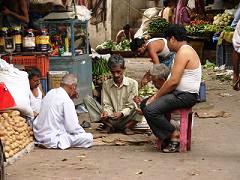 India's online gambling industry holds a huge potential due to the upcoming middle class. The South Asian country produces more millionaires than the US and Europe jointly. Lorien Pilling, research director at Global Betting and Gaming Consultants (GBGC), stated: "Indian nationals have an inborn fascination with gambling."
Mobile phone penetration
However, the internet penetration and the number of mobile phones among a wide range of the Indians are crucial. There are 880 million mobile phones in India, according to recent figures. The number of mobile devices in China beats everything with a whopping 5.6 billion. These figures emphasize the enormous possibilities for online gambling in India.
Foreign online casinos
Gambling is prohibited in India, but the legislation is outdated and ineffective. As regards online gambling, India still has a poor internet infrastructure. In addition, legalizing online gambling is usually an extremely sluggish process. For that reason, foreign online casinos are the only option for Indian gamblers who like to play online.
Underground gambling
All gambling-related activities can result in a fine or a prison sentence due to the fact that gambling is illegal in India. Nevertheless, India has a flourishing underground gambling market. Industry experts believe that the Indian gambling market holds an annual value of around $60 billion. However, approximately 50% features underground gambling activities.
13 legal casinos
There are two Indian states that offer legal gambling parlors. Gambling aficionados can visit twelve legal casinos in the state of Goa, while the state of Sikkim offers one legal gambling venue. In addition, Indian gamblers can only choose from horse racing and lotteries.