Jessie Bryant winner of the WSOP meeting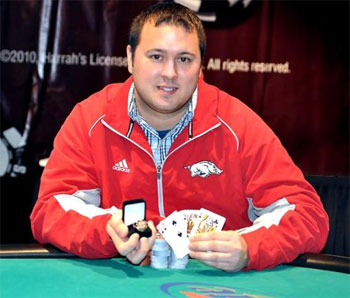 Jessie Bryant won the gold ring at the World Series of Poker (WSOP) for the second time this year.
Card shark
This card shark is originally from the United States. He served his country in the army and fought in Iraq. He also recently won in the latest "Circuit tournament" held at Caesars Palace Casino in Las Vegas. This victory comes after he won the Omaha 8 title at a WSOP meeting in Mississippi three months ago.
A war veteran familiar with risk
This war veteran is not fazed by high-risk situations and knows how to keep a cool head in a crisis. These are qualities that seem to have served him well as he successfully adapted to the difficult conditions of the last rounds of the tournament.
An employee at the Conway Refuge
Since having retired from the army Bryant has been working for a homeless shelter and enthusiastically declared, "I can think of no better place to work. I would like to think that my victory will inspire all those that live at the Conway Refuge."
The WSOP was in Las Vegas until last Saturday, April 30th.