Las Vegas Sands acknowledges potential Indian market
On the sidelines
US gaming giant Las Vegas Sands would definitely enter the Indian market, but there are no concrete plans. "Undoubtedly, we acknowledge the huge potential that the Indian market holds. However, we are waiting for interested parties to step forward," Las Vegas Sands CEO Sheldon Adelson said.
No reaction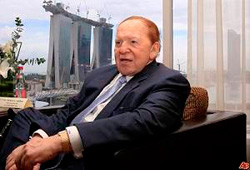 Approximately five years ago, Las Vegas Sands also considered to enter the Indian market. Adelson contacted the Ministry of Tourism with regard to his plans for a new gambling resort in India. The Ministry of Tourism said he should determine which Indian states would approve an integrated resort. Nevertheless, no state official responded to Adelson's interest.
Huge potential
"The Venetian Las Vegas, Marina Bay Sands Singapore and Venetian Macao have a massive impact on the local economy. We would like to develop a Las Vegas-styled resort in India, which would obviously boost local tourism. India's population has crossed 1.2 billion but receives only 6 million tourists a year. The planned integrated resort consists for only 2% of gambling space," according to Adelson.
Mini Las Vegas
Recently, Las Vegas Sands revealed its plans to create a mini version of Las Vegas in Spain. The $20.3 billion project features an extensive casino complex with around 20,000 hotel rooms, in addition to retail and conference facilities. Adelson stated that the massive project would result in 180,000 new jobs, which are really needed in Spain.