Macau casinos tap into wedding market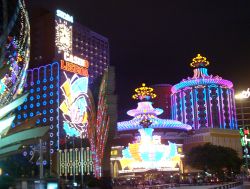 This new trend may convert the Asian gambling city into a prime location  for couples to exchange marriage rings. So far their efforts have proved successful as more and more couples from abroad are tying the knot in Macau. In late 2012, the Macau Government Tourist Office decided to support the casino resorts' efforts financially.
Wedding business lucrative option
However, the internal market for marriages is also a rewarding industry. Since 2006, the number of weddings that took place in Macau has climbed gradually. In fact, the number of marriages recorded in 2012 increased to 3,783. This represents a 6.7% rise in comparison to 2011. The wedding business is a lucrative option to diversify non-gambling revenue, according to market watchers.
Vegas loses crown
Las Vegas has long been the world's leading gambling destination. In 2007 however, Macau managed to overthrow Sin City. Since then, the Chinese gambling city has extended its lead over the Las Vegas strip. Macau's gambling revenue rose to $38 billion in 2012, which represents a 13.5% increase. Casinos in Nevada generated only $4.5 billion in revenues last year.