New Delhi Police bust two home-based casinos
Agents with the New Delhi Police Department have raided two illegal gambling parlors, which resulted in the arrest of 14 people. Cash of Rs 3.5 lakh and six luxury vehicles were also recovered. One of the underground casinos was located in Greater Kailash, while the other was based in the Kalkaji area.
14 suspects arrested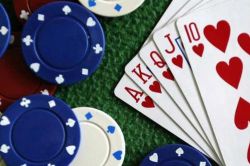 "We have booked eight individuals at a home-based gambling den in Greater Kailash and six at another underground gambling house," a police spokesperson commented. Cops raided the two residences after receiving information about the illegal gambling operations. Rajesh Katyal is the owner of the Greater Kailash-based home.
Home-based gambling dens
"Officers with a special police squad smashed the two illegal gambling dens, which operated from a house. The Kalkaji-based residence belongs to a woman who lives outside India. She had rented the residence to an individual who turned it into an underground casino. We detained all persons who were present at the time of the raid," the police spokesperson added.
Sophisticated casinos
One of the illegal casinos featured two card rooms where a cashier offered gamblers credits and tokens in exchange for money. Both underground gambling venues were well-organized and punters had to open an account in order to join the gambling action. Police believe that both clandestine casinos welcomed many high rollers. For that reason, the home-based casinos featured special facilities, including tokens worth 1000 lakh.