New York gambler faces child neglect charges
47-year-old Vaylon Wong was enjoying a gambling session while his two children were left unattended in his car. Police detained the gambler from Brooklyn, New York, who faces child neglect charges. Another casino player noticed the two children, one three-years-old, the other one five, and alerted the police.
Reckless and stupid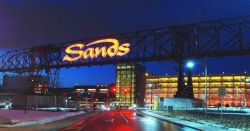 "I was shocked and angry at the same time when I found the two girls inside the car. How can somebody be so irresponsible and stupid. I don't want to think about what could have happened if they were found by somebody with bad intentions", the casino patron noted.
Lying daddy
Sands Casino staff tried to trace the father of the two children, but without any success. After about 45 minutes, police came across the 47-year-old gambler. Wong reportedly said he was the owner of the car, but denied that the children were his. The Brooklyn resident claimed he was only babysitting. However, when one of the girls called him 'daddy' it became clear that Wong was lying.
Banned for life
Police officers brought the children to the Northampton County Children and Youth. Authorities are investigating the disgraceful case. It goes without saying that Wong was booked and bailed for $20,000 at the Northampton County Prison. The 47-year-old man has been banned for life from the casino.