Ben Affleck kicked out of casino because he was too good
The Hard Rock Casino in Las Vegas has imposed a lifetime ban on Ben Affleck after accusing him of card counting. It is rumored that the American actor actually won too much at the gambling venue in Sin City. One of the casino workers confirmed that Affleck had become a highly skilled player who regularly triumphed at the gambling tables.
Not illegal, but still banned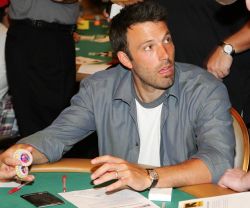 Card counting is a strategy, mainly used at blackjack, which is actually legal. However, casino players who count cards run the risk of getting banned. Hard Rock Casino officials claimed they noticed Affleck counting cards at one of the high rollers' blackjack tables. The management banned the actor for life from the Las Vegas-based gambling parlor.
Successful at blackjack
Affleck loves to gamble, especially at Sin City casinos. He appears to be a successful player who often wins big time. On one occasion, Affleck took home about $140,000 while enjoying a game of blackjack at the Hard Rock Casino. About twelve months later, the 41-year-old gambling fan collected $800,000 in blackjack winnings at the same gambling establishment.
Talented poker player
Besides blackjack, the Hollywood star also enjoys a game of poker. Affleck is actually a talented poker player who raked in $350,000 after winning the California State Poker Championship. However, he didn't claim the cash. "We expect Affleck to win more tournaments due to his well-developed poker skills", a spokesperson for the California State Poker Championship commented.