Panaji authorities raid unlicensed casino catering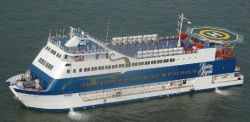 Authorities have raided an unit inside a building on suspicious of links to a casino ship. A spokesperson for the Food and Drugs and Administration (FDA) confirmed that the unit served as a kitchen. Authorities have shut down the unlicensed kitchen as they believe it provided a casino gambling vessel with food.
Excessive cooking
Salim Veljee, speaking on behalf of the Food and Drugs and Administration, said that the kitchen was located near the Captain of Ports Department. After receiving information about excessive cooking activities inside the unit, FDA officials inspected the room. The kitchen was situated on the topmost story of the Panaji-based building.
Unlicensed casino caterer
The spokesperson for the FDA added: "We have closed the unit because the owner failed to produce the required licenses." Additionally, the owner admitted that the unit was used to prepare food, which was intended for people working at a casino gambling boat. At the time of the raid, inspectors determined that the kitchen staff was preparing large quantities of food.