The end of casino gambling boats on the Mandovi river
Gambling fans who love to embark on a casino ship in the Mandovi river are running out of luck. Manohar Parrikar, chief minister of the state of Goa, has announced that all gambling vessels will have to set course to others waters. It will take about two years before all casino boats have left the Mandovi river.
Licenses in danger
Parrikar confirmed that the government has informed the gambling companies in question about the new policy. "All gambling vessels have received correspondence about the regulation. We will be forced to withdraw their licenses if they fail to leave the Mandovi river. M V Caravela is set to bear the brunt, after which the other casino boats will gradually do the same thing," the chief minister noted.
No total ban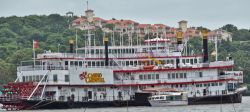 However, it doesn't mean that the government of Goa will prohibit all gambling boats. "We have agreed that all off shore casinos have to leave the Mandovi river in the next two years. This only applies to gambling vessels on the Mandovi river, and there is no talk of a total ban," Parrikar explained.
One out of five bankrupt
The state of Goa features five gambling ships, with one of those out of business after bankruptcy. Local media report that the vessel in question is on its way to the shipyard. M/S Golden Globe Hotels Private Limited is the company behind the casino boat with ex-Haryana minister Gopal Kanda being in charge of M/S Golden Globe Hotels.