$149 million lottery jackpot up for grabs
Indian gambling enthusiasts who like to become an instant millionaire may want to buy some lottery tickets. The Powerball jackpot has climbed to a stunning $149 million! Or how about the Mega Millions top prize worth a whopping $95 million? Tickets for the world's leading lotteries are available online, allowing players to take home life-changing jackpots.
Minimum jackpot of $40 million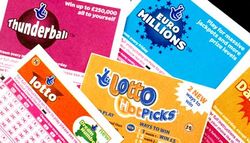 The Powerball game is without a doubt one of the most rewarding lotteries on the globe. Prizes worth more than $300 million are certainly no exception, which explains its popularity. Indeed, the Powerball jackpot kicks off at $40 million and rises every time there is no winner. Wednesday's draw features a $149 million jackpot, which makes it even more tempting to purchase a ticket.
$95 million prize available
Mega Millions is another American lottery game that is played in 45 states. Just like the Powerball lottery, this game is available in India. The Mega Millions jackpot starts at $15 million, and tends to climb to incredible heights. Today's draw offers players a $95 million jackpot, while the EuroMillions draw is packed with a $33 million bonanza.
Rewarding lottery-like game
You may be wondering how to buy tickets for those international lotteries. Use the so-called 'online ticket concierge service' to join the extremely rewarding lottery action. If you prefer to play a lottery-like game online, you may want to consider Bonus Keno. This exciting game features a progressive jackpot, plus a generous bonus mode, which allows you to double your winnings. Royal Panda is a highly recommended online casino that offers Bonus Keno.