7-year-old informs Mandsaur police about illegal gambling den
Authorities in Mandsaur (Madhya Pradesh) have received information about a black-market gambling spot from a youngster. Amir Shoaib was sick and tired of his gambling father. For that reason, the seven-year-old boy decided to inform the police about the illegal gambling spot where the men also enjoyed alcoholic beverages.
Tip-off by youngster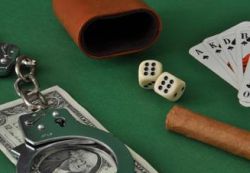 Shoaib went to the local police office, and asked one of the agents for a conversation in private. He told the officer in question about his dad visiting the illegal gambling den every day after work. Shoaib had frequently asked his daddy to refrain from both playing games of chance and drinking. However, his efforts were in vain.
Caught red-handed
The boy indicated where the gambling stash was located, after which several police officers visited the spot. A group of men were playing games of chance at the time of the raid. All of them were arrested, including the lad's father.
Rs 1,000 reward
Shoaib's mother was not amused when she found out that he had informed the police about her husband's after work activities. After the arrest however, Shoaib's father gave up both his drinking and gambling habit. Things got even better for the youngster as he received a Rs 1,000 bonus as a reward for the information about the underground gambling spot.