Raichur authorities break up illegal gambling operation
Authorities have raided the DVR Recreation Club in Yermarus on suspicion of illegal gambling activities. There they recovered gambling paraphernalia, alcoholic beverages, a vehicle, as well as Rs. 7.38 lakh in cash for forfeiture. Police agents booked a group of twenty individuals in connection with the illegal gambling operation.
Complaints about illegal activities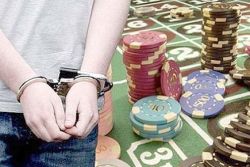 Several agencies and entities participated in the raid on the recreation club located in the small village of Yermarus. A spokesperson for the Raichur district administration added that the alcoholic beverages valued approximately Rs. 25,000. They decided to raid the establishment after residents had complained about multiple illegal activities.
Serving liquor without a license
Police officers discovered that the Yermarus-based club sold unlicensed alcoholic beverages. Additionally, visitors could play illegal games for real money. Sources claim that more than 500 gambling enthusiasts were enjoying card games prior to the raid. The majority of those gamblers managed to get away before police officers arrived at the scene.
Frequently visited gambling club
Residents from the states of Hyderabad and Telangana visited the premises frequently, according to sources. In July 2014, the DVR Recreation Club opened its doors to the public. All suspects, including the owners of the club, face charges including illegal gambling, and serving/ consuming alcoholic beverages without a license.