Illegal gambling at Panhala-based hotel
Police officers have raided an establishment in the city of Panhala, Maharashtra, on suspicion of underground gambling. 18 suspects were arrested, while agents recovered multiple items, including six vehicles, cell phones, cash, and gambling paraphernalia. The illegal gambling took place at a hotel located in the Bambarwadi community.
Gambling raid after tip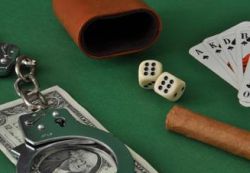 The arrested were gambling at the time of the police raid. The 58-year-old owner of the hotel is facing a complaint, filed by the police. "We decided to search the establishment after we received a tip about illegal gambling at one of the hotel's rooms. The suspects reside in Kolhapur, as well as in the Panhala taluka community", a spokesperson for the police said.
Continuous crackdown
"Our team recovered a sum of Rs 1.06 lakh, while they also impounded valuables, including several vehicles. Despite the fact that gambling is prohibited, we continue to come across illegal gambling activities across the region. We have conducted dozens of raids so far, and we are determined to continue our crackdown against illegal gambling. We hope that people inform us about such illegal practices in order to put an end to it."