Underground gambling at Manipur-based fair locations
Manipur residents are fed up with the clandestine gambling activities across town. It has forced the students' division of Joint Committee on Inner Line Permit System (JCILPS) to crack down on illegal gambling stands at different fairs. They seized gambling paraphernalia, which will be destroyed.
Clandestine gambling stands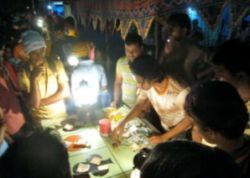 The unauthorized gambling took place at stalls as part of fairs in northeastern India. A spokesperson for the students' division of JCILPS noted that four people have been operating those gambling stands across the state of Manipur. Needless to say that the organizers used the stalls to generate money. He underlined that the Home Department should take measures to combat such clandestine gambling activities at fairs.
Proper fairs
About 90% of those illegal gambling stands are operated by individuals from outside Manipur. Members of the students' division of JCILPS decided to round up the underground gambling stalls after complaints by residents. The spokesperson added that they will organize a meeting on December 15 to inform people about the fair rules to prevent such illegal activities. That meeting will be held at JCILPS' office.