Good news for Indian rummy fans
Rummy is a popular game across India despite its illegal status. Rummy has long been considered gambling, which makes it an illegal activity. Things have changed after a high court has dropped charges of gambling against 19 individuals who had been booked for playing rummy in late 2012. That decision is based on two rather interesting rulings from the Eighties.
Arrested for playing rummy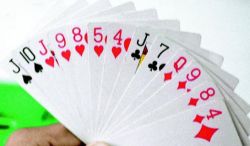 But first the illegal gambling arrests in October 2012. The incident happened in the town of Sakaleshpura (Karnataka), where local police arrested 19 individuals who were enjoying a game of rummy. Police officers also recovered a sum of Rs 88,915. The arrested persons were charged with counts of gambling.
Prison term and fine avoided
Back in 1980, a high court ruled that rummy is not an illegal activity. Two years later, the same court ruled that rummy is a game of skill rather than a game of change. All charges against the 19 suspects have been dropped based on those two decisions. The group may have been convicted to a prison sentence of at least three months, in addition to a minimum fine of Rs 500.