Malaysian gambler nabs $8.3 million Toto windfall
A 33-year-old gambling enthusiast from Malaysia has crammed his wallet with a stunning $8.3 million in cash. The fortunate winner in question has already claimed his life-changing jackpot at the Sports Toto office in Kuala Lumpur. He plans to put his winnings toward a home and a car, while his family will also benefit from the $8.3 million cash prize.
Winner in disbelief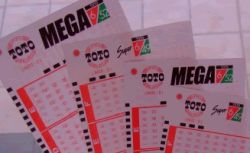 "Every weekend, me and my mum visit a lottery retailer where she always purchases a couple of tickets. This time I decided to buy a few tickets myself", the 33-year-old restaurant manager commented. The Malaysian national said he was shocked and surprised and felt like he was going to pass out when he realized he hit the jackpot. "I needed someone to pinch me, and I told my mum to verify the numbers again", the Sports Toto winner added.
No early retirement despite multimillion jackpot
Six months ago, another Kuala Lumpur resident scooped a $5.8 million jackpot thanks a winning Toto 4D ticket. The 67-year-old winner, who used the numbers on his expired ID-card, is a real lottery fan as he has been buying tickets for nearly two decades. Despite his millionaire status, the professional cook said retirement won't be anytime soon as he loves his job. He also told lottery officials he didn't have any immediate plans to spend the money.