Malaysia's black-market gambling crackdown continues
Several police departments have executed additional illegal gambling raids across Malaysia. The arrest of 18 individuals for their involvement in underground gambling activities has brought the total number to 59. These latest raids are a testament to Malaysia's continues efforts to tackle black-market gambling.
Suspects unidentified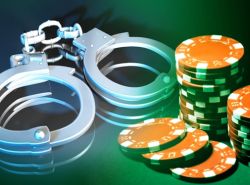 A spokesperson for one of the police departments noted that the arrests took place in Kepong and South Klang. Six of the eighteen suspects are from outside Malaysia and between the ages of 22 and 45. Authorities have declined to provide information about the individuals arrested during the illegal gambling raids.
Gambling-related items
Police officers visited seven locations where they arrested the eighteen gamblers. The raids took place at approximately 3 pm, according to local media. Police recovered gambling paraphernalia, including mobile phones, notebooks, desktop computer, as well as RM5,039 in cash for forfeiture.
Additional illegal gambling raids
On May 24, multiple police departments executed several other illegal gambling raids. They arrested more than 40 individuals on suspicion of involvement in underground gambling. Police recovered 180 laptops and desktops, while they also seized RM10,231 in several operations in the region of Sarawak.