New Delhi authorities arrest fifth lottery scammer
53-year-old Sukhdev Kumar has been arrested for running an illegal lottery ring across the state of New Delhi. Police officers detained the Paschim Puri resident at New Delhi's Indira Gandhi Airport. Kumar was one of the wanted suspects after authorities discovered 1.68 lakh forged lottery tickets with a value of Rs 34 lakh at a Nedumbassery-based location.
Main distributor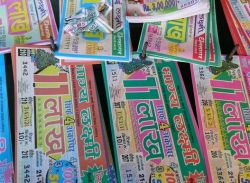 Police arrested Pradeesh and Sajeesh when they tried to transport the fake lottery tickets to Tamil Nadu. After the seizure, police launched a probe into the lottery scam. Detectives soon arrested four individuals and determined that Kumar was one of the other suspects in the case. Ananda Vadivel is considered a prime suspect as he allegedly distributed the forged lottery tickets in Tamil Nadu.
Wire tapping
"We decided to tap Kumar's cell phone calls. A few days ago, we discovered that he was planning to travel from Colombo to New Delhi. For that reason, police officers were able to detain Kumar when he arrived at New Delhi's Indira Gandhi Airport," a police spokesperson explained.
Rival lottery scammers
Kumar reportedly visited Bangladesh and Nepal on a regular basis. Police believe he operated illegal lotteries in other countries as he had travelled to 28 countries over the past few years. New Delhi Police said Ananda Vadivel is competing with Santiago Martin, who is also renowned for his illegal lottery activities. Martin allegedly distributes fake lottery tickets across southern Indian states.