Police inspectors suspended after gambling-related violence
Ahmedabad (Gujarat) residents raided an illegal gambling business last Sunday, an incident which has led to the suspension of two police inspectors. The gambling den was located in the Idgah district, where locals claimed that police had failed to step up against the underground activities.
Fed up with illegal gambling den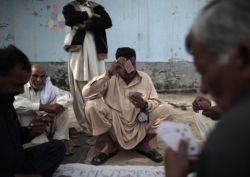 Three police officers have been suspended, including an Idgah Police inspector. Dawood and Gani operated the illicit gambling business. Locals were fed up with the illegal activities, and they assaulted the two operators of the gambling parlor. Additionally, the angry crowd attacked all people present when the place got raided, and they wrecked the gamblers' cars.
Violent confrontation
The Idgah district is the responsibility of the Madhavpura Police Department. Cops were forced to use chemical weapons to keep the aggressive crowd at a distance. Eleven people were arrested for their involvement in the violent incident.
Fatal injuries
One of the local people who participated in the attack, 62-year-old Abdul Karim Abdul Rahim Sheikh, suffered severe injuries during the incident. He was taken to a nearby hospital, where he died from the injuries he sustained in the violent confrontation.