Robbers disguised as cops mug gamblers
Public trust in police has slid in recent years, but nobody expects to be robbed by two cops. However, that's what to some extent happened in the city of Aurangabad (Maharashtra). A group of friends were enjoying some card games when all of a sudden two unknown individuals appeared. The duo pretended to be police officers.
Conned by fake cops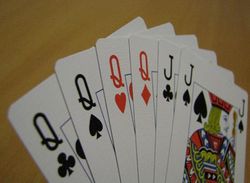 The gamblers were taken by surprise and they didn't ask the two 'cops' for any identification. The criminal duo used wooden sticks to beat the seven men, after which they robbed them. They seized eight cell phones as part of a fake police raid. After the culprits had left the spot, 20-year-old Vijay Laxman Ghatmal headed to a nearby police station to file a complaint.
Assaulted and robbed near Saibaba temple
In addition to the cell phones, the criminals took Rs 1.75 lakh in cash for forfeiture. The incident occurred near a tourist accommodation in the area of the Sai Baba of Shirdi temple. After processing the whole event, it became clear that they were robbed by two criminals who claimed to be police officers. The duo remains at large, although the investigation is ongoing.