Unnao authorities raid bird fighting betting ring
Police have arrested 18 individuals for their involvement in a bird fighting racket in Unnao. Authorities recovered 24 grey francolins, while they also impounded valuables and cash. After receiving information from locals about the illegal bird fighting activities, police officers raided the premises.
Illegal betting racket busted
"Cops rounded up a betting ring that was located at a Unnao-based village. Police discovered 24 grey francolins and booked 15 individuals who were betting on the fights. Additionally, police arrested a trio who allegedly operated the games of francolin fighting", read a statement from the Unnao Police.
Grey francolins released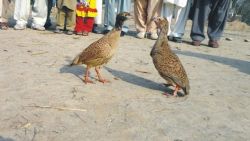 The spectators who placed bets on the bird fights came from several regions, including Hardoi, Kanpur, and Unnao. Police officers took the grey francolins to a forest in the region where they were set free. All suspects have been charged with animal cruelty, and they face up to six months in prison, and/ or a maximum fine of Rs 25,000.
Serious problem
Sources claim that bird fights occur at several locations across the region. Additionally, they believe there is an extensive organization behind the illegal betting activities on the bird fights. Recently, Farrukhabad authorities raided another grey-francolin-fighting racket.