Malaysian betting syndicate tried to bribe Indian football clubs
Corruption is a widespread problem in Indian cricket, and football may become the next victim. A match-fixing syndicate from Malaysia allegedly tried to bribe several I-League clubs, the All India Football Federation (AIFF) confirmed. It proves the necessity to address match-fixing that continues to spread throughout many sports.
Alarming approaches
Last week, the All India Football Federation (AIFF) hosted a two-day conference on match-fixing. The clubs in question took the opportunity to mention the attempt by the Malaysian betting ring. Subrata Dutta, senior vice-president for the AIFF, described the approaches as 'alarming'. "Both the FIFA and the AIFF take this threat seriously," Dutta said.
Match-fixing unit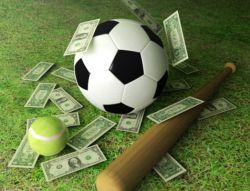 The AIFF senior vice-president has called for a special match-fixing unit led by an integrity official. It remains unclear if the executive committee will approve Dutta's proposal. The AIFF has informed all teams about possible approaches to fix matches. He refused to reveal the number of clubs that received an offer from the Malaysian sports betting syndicate.
Match-fixing offer
In early 2013, an unidentified man called Atul Bagdamia to offer him a free all-inclusive trip to Malaysia. The Mumbai FC vice president refused the offer as it involved fixing several games. "I turned down the offer because it was crystal clear that he wanted to bribe us. I'm not sure if he mentioned his name, I remember that he called form Malaysia," Bagdamia told.