World's richest lottery loaded with $3 billion in cash
It's been a tradition for many years in Spain to kick off the Christmas season with some lottery madness. This year's prize pot was packed with a whopping $3 billion in cash. 'El Gordo' is the famous top jackpot, while there are 24.486.400 prizes up for grabs. The so-called 'sorteo de Navidad' is definitely the world's biggest lottery.
Two vessels packed with balls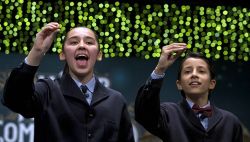 Ticket-holders who hit the top prize took home $490,000 each, explaining the popularity of Spain's Christmas lottery. Additionally, all prizes are tax-free, which is another plus. The 3.5 hour drawing includes two vessels, with the big one featuring 1,000 balls, representing all ticket numbers. The other vessel is packed with 1,807 balls, featuring all cash prizes. Every ball drawn from the large vessel is coupled with a ball from the small one, linking the ticket number in question to a prize.
Huge impact on lucky winners
Ticket number 13437 proved to be this year's lucky one as ten of them hit the fat one, awarding them $490,000 each. Spain's Christmas lottery has a massive impact on the fortunate ticket-holders as the Eurozone's fourth-largest economy struggles with huge unemployment rates. The drawing took place at Madrid's Royal Theatre where 22 school children sang the winning lottery numbers, which is an annual Spanish tradition.