Online gaming sites increasingly target Indian housewives
Indian housewives have embraced online card games. "Playing online rummy has become part of my daily routine. I love to play online card games after finishing my household chores. It can be a rather lucrative pastime," Aditi Kohli from Andheri, Mumbai commented. The 35-year-old housewife revealed to have won 10,500 Indian Rupees thanks to online rummy.
Games suitable for housewives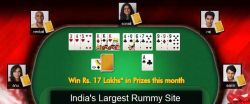 Online gaming sites like Zapak, Ace2Three and Games24x7 have launched special card games for household gamers. "Card games have always been popular in India. We sought to introduce amusing and challenging games that were also suitable for housewives. Rummy is legal in India as it is a game of skill," according to Deepak Abbot, vice-president product Zapak Digital Entertainment Ltd, Mumbai.
Online gambling
The trial room enables gamers to play for fun, before wagering real money. Indian players can buy tokens to participate in cash games, in addition to creating their own network. Winning players can cash in their tokens through online banking or check delivery.
Comprehensive underground gambling scene
Gambling is extremely popular in India. However, the gambling legislation is outdated and fails to regulate gambling in India. This has resulted in a comprehensive underground gambling scene. Market watchers estimate the total market value (both offline and online gambling) at more than $60 billion.