Uncertain future of online rummy in India
Skill games for money allowed
However, the future of online rummy has become uncertain after a judgment by the Madras high court. It ruled that a Chennai-based business could no longer offer rummy games for money. The business has decided to go to the Supreme Court, which will decide if games of skills for money are allowed, and if businesses may generate profits thanks to those games. Market watchers are convinced that the judgment will also influence the future of online rummy.
Online rummy for money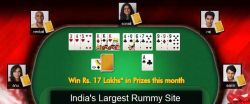 Online rummy fans first need to purchase virtual tokens for real money. Subsequently, players need to access their account at the online rummy site. The virtual tokens are used to play the online rummy games. Winning players can redeem their tokens for checks. Operates collect approximately 25 percent of the total value of every game.
20% play for money
Players can also choose to try the rummy games for free. Those free versions invite gamers to collect points instead of real money. Figures show that free games are much more popular than the money versions. Actually, around 20 percent of online rummy fans play for money. Obviously, the real money games are much more rewarding for online rummy sites. Those websites also offer rummy tournaments.
900,000 active users
Indians can choose from a broad range of online rummy sites, which offer money games and/ or free versions. Market watchers recognize Games24x7 as the market leader, with 900,000 accounts. Ace2Three claims 200,000 members, while Zapak has 100,000 active clients. Indians have an inborn fascination with gambling, which explains the popularity of online rummy. Keep an eye on our news section for all gambling-related news from India.