Promotional Freeroll at VictorChandler.com
Big prizes to be won at VictorChandler this month.
55 Special Share Scheme League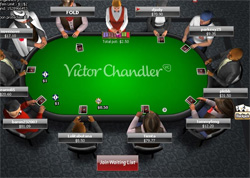 VictorChandler.com made it known that the "55 Special Share Scheme League" will begin this Tuesday at 8am GMT and that players will be able to participate in five weekly freerolls for €200 for a total bet of only €10.
Be among the top 55 players
The online poker site will operate a ranking system for each event and the 55 best players will receive points. At the end of the final meeting, 55 players then receive a share of the total amount equal to the percentage of points in the ranking.
A place in the Hall of Fame
VictorChandler.com revealed that €9 taken on the entrance fees are returned to the players and high level competitors will also earn the right to be included in the site's "Hall of Fame".
All you need do is register
The VictorChandler.com advertisement states that all players wishing to participate in the Special Share Scheme League 55 must first register for the "55 Special Place Holder Tournament" by clicking on the "Specials" tab and pay the €10 entrance fee.
A jackpot win
Each entrant to the tournament can then sign-up for the five "55 Special €200 Freerolls", which will form the €200 pot. In accordance with their payment policy and assign points to the 55 top players from each freeroll.
Five freerolls to try
Once completed the fifth and final freeroll series, the ranking will be finalized and all players who have received points will win a share of the entrance fees paid by all participants. Ranking points awarded to any one player as a percentage of the total awarded points determine the share of the prizes awarded to the player.