Poker Hall of Fame 2010: Which players will the jury choose?
The "Poker Hall of Fame" is an American competition designed to pick out the persons (players or not) who will best contribute throughout their careers to enrich the history of poker. This route to celebrity leads to a number of various selections under the supervision of a committee. As the selection progresses, the number of contenders diminishes. How many will be left in the end?
Out of 181 contenders at the outset, there are only 10 left
The Poker Hall of Fame has been paying tribute to poker since 1979, in Las Vegas. Personalities having contributed to the notoriety of the game are immortalized as poker celebrities. Benny Binion is its founder. He also launched the World Series Of Poker, which explains why the future nominee will be "crowned" during the final of the Championship. These two events will take place in the Harrah Group casino. He also had the pleasure of announcing at the end of summer, the names of the candidates preselected by public vote.
Selection for the competition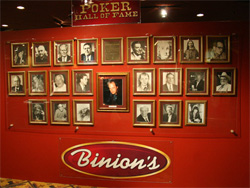 A total of 181 people were voted for in this competition. There were a number of criteria to be meet in order to qualify. Among these, applicants had to have played in the American TV show "High Stakes", taken part in major poker tournaments on a consistent basis or for non-players, to have marked the history of the game in some fashion.
Votes by internet users
Then comes the choice made by internet users. This year, a total of 10 were selected. For the most part titled world champions. In this list we find Scotty Nguyen, 1998 World Champion in Las Vegas, Dan Harrington the 1995 champion, Chris Ferguson, titled in the year 2000, and even Tom McEvoy who won the title back in 1983. The women nominees included Jennifer Harman, World Champion in 2000 and 2002, has recently been voted by "Woman in Poker Hall of Fame". She is competing in this mixed contest against Linda Johnson. The latter player is also a journalist for the magazine "Card Player". One of the male contenders Phil Ivey, is considered the best player in the world by the media.