Caribbean Stud Poker
On first impressions, Caribbean Stud Poker may appear to be a variant of Texas hold'em, due to it using the same poker hand rank system. But in reality, it has more in common with blackjack. Players play against the house and not each other. So it's not possible to bluff. It is a popular game with a long history. Therefore, we have gathered all the useful and fun information about this game in one place for you. Experience and win at Caribbean Stud Poker!
Play Caribbean Stud Poker for money at Royal Panda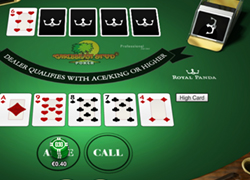 At Royal Panda it's possible to play Caribbean Stud Poker with low, high or standard bets. As a new player, you'll even receive a welcome bonus of up to ₹7500. What's even nicer is trying out the game using the practice mode, so you can improve for when you play for real!
Play Caribbean Stud Poker at Royal Panda now
Progressive jackpot
Caribbean Stud Poker is always linked to a progressive jackpot. This jackpot can run into the tens of thousands of Dollars. Although the chance of winning this jackpot is relatively small, many players choose to play for jackpot. In order to have a chance of winning this jackpot, players must bet €1. This little bet offers you the chance of winning a gigantic jackpot. You never know your luck!
What are the rules of Caribbean Stud Poker?
As with every game, it's important to know the rules. This way you increase your chances of winning and are fully prepared to play the game. Do you know all the rules of Caribbean Stud Poker?
Improve your chances of winning with Caribbean Stud Poker strategies
Although you can never say with certainty which card you'll receive, there are certain strategies that you can employ to increase your chances of winning.
Play stud poker for free
Are you still new to Caribbean Stud Poker and want to practice? You can! To practice and improve your skills you can try out the game for free, without having to register.
The origins of Caribbean Stud Poker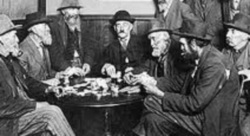 Primero, as the game was once called, originated in Spain and then moved across to the United States. It was originally played with three cards, and although gambling was prohibited it became immensely popular. At the time, boredom was a big problem on cruise ships in the Caribbean. The game was frequently played to pass the time.
In next to no time it received the nickname Caribbean Stud Poker and was recognised as a variant of the original game, Primero. As of that moment the game was played with five cards. Caribbean Stud Poker is currently one of the most popular casino games.